Our EYFS Bundle Pre-Recorded Digital Workshops
7 Modules (Was £50 – NOW £25 each) + Bundle (Was £315 – NOW £157.50 for all 7)
In this module we cover:
A range of EYFS specific interventions for younger children with ADHD
Uses of lists, visual timetables and other prompts for younger learners with ADHD to help with memory and organisation difficulties.
Ready to learn? Identifying whether younger children with ADHD are in a position to begin learning, both long term and short term.
Timetabling strategies and differences for younger children with ADHD
The benefits of using visual interventions and communication as a supplement to auditory verbal communication.
Seating plans and maximising attention.
Overstimulating/understimulating – getting the balance right.
Keeping them busy: creating opportunities to keep younger children with ADHD busy in a positive way.
Using a range of pre-emptive and responsive intervention to assist EYFS children in self-regulating behaviour.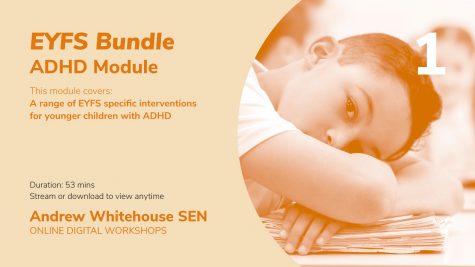 Anxiety and Wellbeing Module
In this module we cover:
Anxiety and wellbeing – what is the difference?
An overview and what to look out for in the eight most common anxiety conditions:
1. Anxiety
2. Social Anxiety
3. Panic and Panic Attacks
4. Stress
5. Depression
6. Obsessive Compulsive Disorder (OCD)
7. Post Traumatic Stress Disorder (PTSD)
8. Specific Phobias
Guidance on how to treat these conditions in a school setting.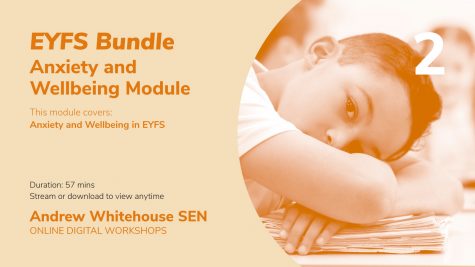 In this module we cover:
Attachment Disorder: Trauma and Loss for EYFS
What is Attachment Disorder? When things go right, when things go wrong and risk hotspots
How children express the effects of insecure attachment
Emotional and social tasks and targets
Some supportive dos and don'ts
A range of attachment disorder presentations and some strategies and interventions to overcome them.
A range of visual interventions for helping young people with attachment needs
Exploiting special interests to achieve positive results
Simplifying tasks and emotional and social situations
Relating to the child in a constructive manner.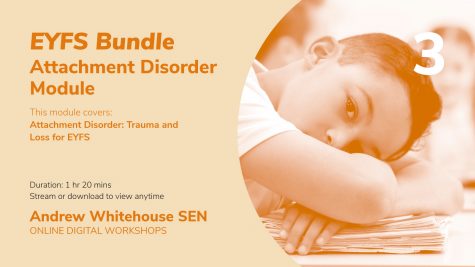 In this module we cover:
Dyslexia and the implications for teaching in EYFS
b, d,p, q confusion: strategies for letter formation
A range of ideas for getting letters the correct way round
Using visual mnemonics
Using kinaesthetic strategies to spend quality time with individual letters and/or numbers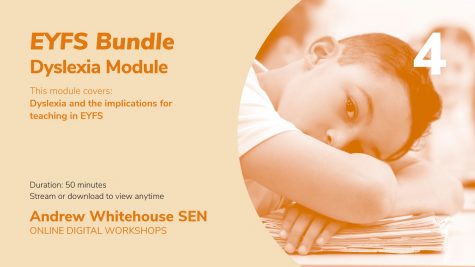 Foetal Alcohol Spectrum Disorder (FASD)
In this module we cover:
Foetal Alcohol Spectrum Disorder (FASD) and Foetal Alcohol Syndrome
What is it and what areas of neurological and physical development does it affect?
How does FASD cause damage to the unborn child in the womb?
How does FASD present in school and pre-school aged children?
Other coexistent disorders which may be present
How FASD affects social, emotional, and mental health (SEMH), wellbeing and self – esteem
The difficulties that teaching and support staff may have with this when creating interventions for children with these presentations – especially those who are undiagnosed
Consistency of interventions
Some tried and tested strategies that work… and a few that don't
Environmental and social strategies for inclusion
Transitions and progression for learners with FASD
Starting school and pre – school EYFS for children with FASD
Some of the challenges children with FASD may face and some workable strategies to overcome them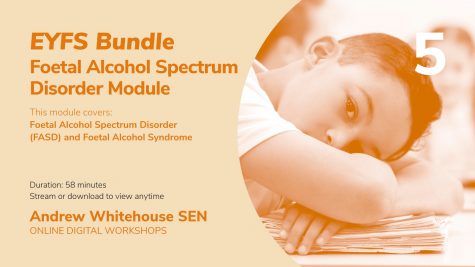 Sensory Processing Disorder
In this module we cover:
Understanding Sensory Processing Disorder in EYFS
What is sensory processing disorder and what does it cover.
Interactions with others
Daily functioning
Social and family relationships
Behavioural challenges
Regulating emotions
Self-esteem
Learning
Causes of certain behaviours and appropriate interventions.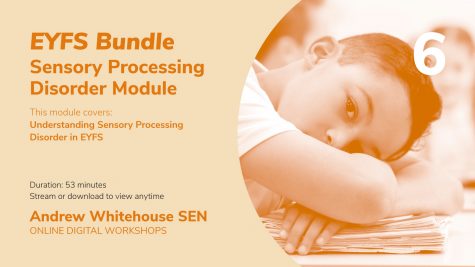 Visual Interventions for Promoting positive behaviour
In this module we cover:
Visual Interventions for Promoting Positive Behavioiur EYFS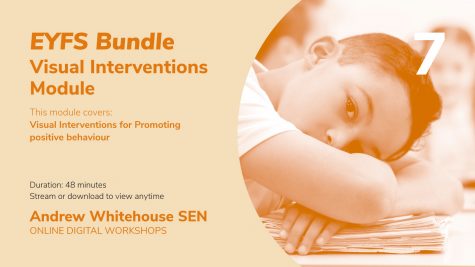 EYFS Bundle
The complete set of the following:
ADHD EYFS Module
Anxiety and Wellbeing EYFS Module
Attachment Disorder EYFS Module
Dyslexia EYFS Module
Foetal Alcohol Spectrum Disorder (FASD) Module
Sensory Processing Disorder EYFS Module
Visual Interventions for Promoting positive behaviour EYFS Module