Our Neurodiversity Programme of Study Pre-Recorded Digital Workshops
7 Modules (Was £50 – NOW £25 each) + Bundle (Was £315 – NOW £157.50 for all 7)
In this module we cover:
Attachment Disorder: Trauma and Loss
What is Attachment Disorder? When things go right, when things go wrong and risk hotspots
How children express the effects of insecure attachment
Emotional and social tasks and targets
Some supportive dos and don'ts
A range of attachment disorder presentations and some strategies and interventions to overcome them
A range of visual interventions for helping young people with attachment needs.
Exploiting special interests to achieve positive results.
Simplifying tasks and emotional and social situations
Relating to the child in a constructive manner.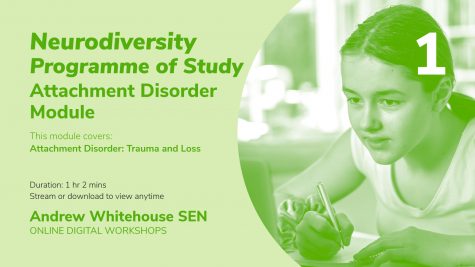 In this module we cover:
Dyscalculia. Colour, Concept, Context, Concrete
What is Dyscalculia and how do we define it?
Dyscalculia and the causes, through to progression
Dyscalculia: hey indicators and informal assessment at school
Other coexisting disorders which may be present
Difficulties conceptualising symbols in maths and strategies to overcome this
Implications for teaching and the four Cs: Colour, Context, Concept and Concrete
Some simple, effective strategies to contextualise maths
Making the maths lesson accessible
Using colours to make conceptual connections
Investigating and evaluating a range of concrete resources to help contextualise maths
Using technology and online maths games.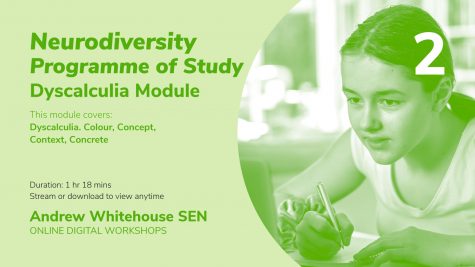 In this module we cover:
Dyspraxia: Strategies and interventions
What is Dyspraxia and how does it present?
Dyspraxia and purposeful movement: Cognitive, Perceptual and Motor processes
Who is affected by Dyspraxia and what is the cause?
What Dyspraxia isn't
Strategies and interventions for use in school, including maths, reading, writing, homework, getting changed, planning, recording, resourcing etc
Adapting toi new situations
Setting up the classroom for Dyspraxic learners
Using visuals for learners with Dyspraxia
A range of physical exercises for Dyspraxia
Using special interests to connect with the learner
Organisation skills for learners with Dyspraxia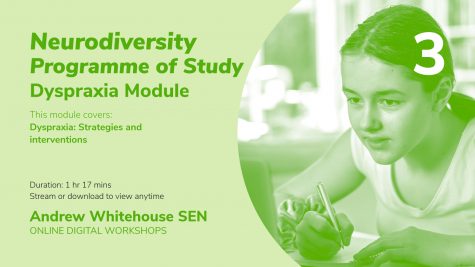 Foetal Alcohol Spectrum Disorder (FASD)
In this module we cover:
Foetal Alcohol Spectrum Disorder (FASD) and Foetal Alcohol Syndrome
What is it and what areas of neurological and physical development does it affect?
How does FASD cause damage to the unborn child in the womb?
How does FASD present in school and pre-school aged children?
Other coexistent disorders which may be present.
How FASD affects social, emotional, and mental health (SEMH), wellbeing and self – esteem.
The difficulties that teaching and support staff may have with this when creating interventions for children with these presentations – especially those who are undiagnosed.
Consistency of interventions.
Some tried and tested strategies that work…

  

and a few that don't.
Environmental and social strategies for inclusion.
Transitions and progression for learners with FASD.
Starting school and pre – school EYFS for children with FASD
Some of the challenges children with FASD may face and some workable strategies to overcome them.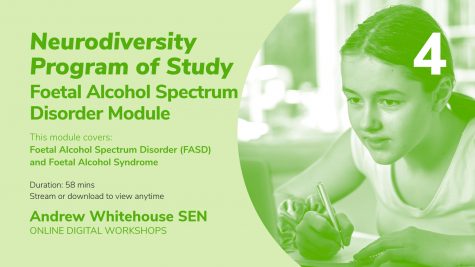 In this module we cover:
Above average achiever, Gifted / Talented / Able – What is the difference?
What is gifted? Talented? Able? To include a wide range of identification strategies
Developmental and social problems experienced by Gifted/Talented/Able learners and interventions to overcome these
How to engage those who may be Gifted/Talented/Able to achieve academic satisfaction. To include extra-curricular considerations, grouping options and creating a positively challenging ethos
A range of metacognition strategies
Listening to Gifted/Talented/Able in order to meet their needs fully
A range of 'good practice' general interventions
Case Studies and Workshop Activities
This training is supported by a range of case studies and workshop activities during which each delegate will learn to:

Better understand the needs of individuals who may be Gifted/Talented/Able.
Create differentiated, level of understanding appropriate interventions.

At the conclusion of the training there will be an optional follow up activity set (homework). This is a great opportunity to practice the skills learnt on the day and to investigate interventions for individual cases.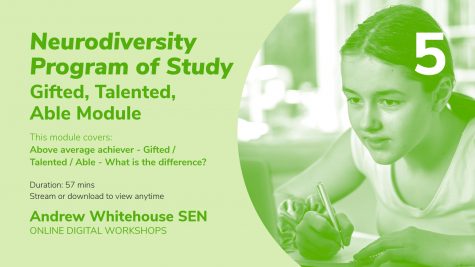 Positive Behaviour Support
In this module we cover:
Promoting Positive Behaviour and Positive Behavioural Support (PBS) for individuals and groups with a range of needs including Social, Emotional and Mental Health (SEMH) and Autism, Asperger Syndrome and ADHD:
A brief overview of the impairments affecting Autistic people (Autism/Asperger)
A brief overview of the impairments affecting people with oppositional conditions such as Pathological Demand Avoidance (PDA)
An examination of the root causes and triggers behind negative behaviour and how to identify and avoid them
General environmental strategies (linked to sensory issues). Using visual communication tools to aid behavioural social and emotional understanding
A brief overview of how the impairments affecting those with ADHD/ADD may cause barriers to social understanding (What is ADHD/ADD and its key features?)
Comorbidity, considering the existence of two or more conditions
An investigation into the type of language and presentation suitable for the needs of those with ADHD/ADD
Strategies and interventions for nurturing emotional well-being
Building resilience
Positively tackling anxieties and promoting positive wellbeing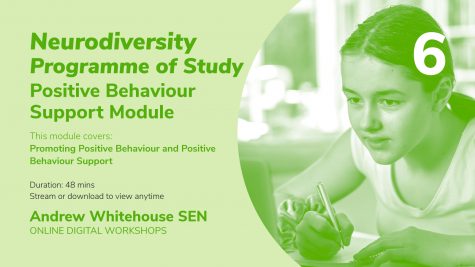 In this module we cover:
What is Raspberry Pi? A brief explanation
How Raspberry Pi works
What can you do with Raspberry Pi as a beginner?
What people have done with Raspberry Pi – some surprising case studies
Different operating systems for different purposes
Getting started – What you will need
Getting the Raspberry Pi ready
Setting up your Raspberry Pi for the first time
Your first code, "Hello world!"
First simple hardware project
Putting hardware together
Coding and putting together the project
Conclusion – where next – the limitations are limitless.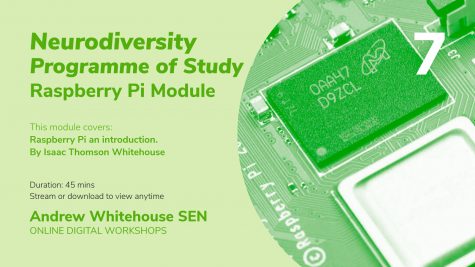 Neurodiversity Programme of Study – Bundle
The complete set of the following:
Attachment Disorder
Dyscalculia
Dyspraxia
Foetal Alcohol Spectrum Disorder (FASD)
Gifted, Talented, Able
Positive Behaviour Support
Raspberry Pi – By Isaac Thomson Whitehouse