Pi and Pi Top, One Year In (and a bit) by Isaac Thomson Whitehouse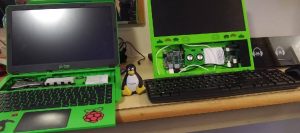 I got interested in Pi-Top during a visit to BETT 2017. In fact I was so inspired I submitted and had published a review of the show and in particular Pi-Top in The Week Junior. Following this, I received my first Pi-Top as a Christmas present in December 2017. A rather magnificent Pi-Top Ceed! After a particularly stressful start (in my excitement – I had made a right mess of the set up), I really got stuck in. My first port of call was to get some more in depth experiences of using Python, which I had been using in lessons at school for the past year, but not to any great level of proficiency or detail.  The Pi-Top Ceed certainly gave me the opportunity to take more risks in the coding world. Gaining confidence with Python ultimately led me to explore more of the features of Pi-Top, in particular – Pi-Top Coder.
In January 2018, I visited BETT for a second time. This time I had a mission, to meet the Pi-Top team, to find out more about Pi-Top and to write another article for The Week Junior. This needed confidence… and my favourite shirt, and a smart jacket. Sacrifices needed to be made! My initial contact was with Stuart Swann who welcomed me and introduced me to CEO Jesse Lozano. Jesse was really friendly and talked to me lots about my journalism, coding and love of all things Pi and Pi-Top. We had some great photos together and then Jesse gave me a Pi-Top Pulse and a Pi-Top hoodie and promised me he would send me a Pi-Top 3. For real!
Come Easter, as promised, it arrived -a beautiful Pi-Top 3 – with all the add ons! It was awful! Why! Because it arrive the day I went on holiday and was left in my garage for two weeks! Torture! Going home was all I could think about!
When I got home, whilst everyone else unpacked I built my Pi-Top. Luckily this time there were no mistakes. The first adventure was to watch a SPACEX Launch with my Mum – what a start!
So now, one year in, what else have I been up to? Check it out:
·        Updated to 3b+
·        Upgraded the sound system
·        Built a robot kit
·        Coded and Built Space Invaders 1 and 2
·        Set up two Retro Pi – one each for me and my brother
·        Built a pocket PC for my dad (he loves it)
·        Built a Pimoroni "pirate" radio receiver
·        Created a dog trainer for my little sister
·        Installed Dosbox and installed windows 3.1 from floppy discs
·        Rebuilt my Pi-Top Ceed and set up a music system – again for my dad (at a price)
·        Started a YouTube channel based on Pi to share my journey and tech skillz (Dr Who)
…and loads more fun stuff including a drone building project.
This year I went to visit the Pi-Top team at BETT again and again I was completely blown away. While I was there I was interviewed for the Pi-Top Podcast and given a demonstration of the Pi-Top 4. It looks amazing!
Next steps hmmm…
Not telling yet…
Check out Isaac at https://www.linkedin.com/pulse/pi-top-one-year-bit-isaac-thomson-whitehouse/