Andrew Whitehouse April 2020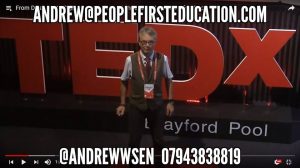 Andrew Whitehouse is a specialist in neurological diversity and provides interventions for professionals, parents and young people with Autism, ADHD, Dyslexia and related conditions. Andrew has a number of roles including training, strategies and therapies for education professionals in schools and colleges, observing learners in the learning environment and providing practical solutions to help them achieve their potential. Andrew provides short courses for Bishop Grosseteste University and the University of Lincoln and holds a number of UK and overseas contracts. Andrew delivered a TEDx Talk "From Disability to Superpowers" and has an extensive conference profile. Andrew is also a Forensic SEND Consultant and acts as an expert witness in SEND related court cases.
During the Covid 19 crisis, Andrew is continuing to carry on his work by creating the online, social media project #GetInvolved collating and publishing bespoke blog posts by a range of high profile SEND professionals, running a wide range of free SEND workshops on Instagram, written and produced 27 online modular courses for London Borough of Sutton and delivered at a number of online conferences. Closer to home, Andrew is providing a lifeline telephone service for families of children with additional needs and co-hosts online Autism support group coffee mornings.
See Andrew's TEDx here: https://www.ted.com/talks/andrew_whitehouse_from_disability_to_superpower
See Andrew at work here
https://www.youtube.com/watch?time_continue=4&v=XJ6FNQx-5ls&feature=emb_logo