How to survive lockdown with a child or young adult with additional needs – Neale Hayward-Shott
Have you lost your day services or respite care?

Are you in survival mode, just trying to get through each day at a time?

Are you finding that time is dragging and you're struggling to find things to do?
How to survive lockdown with a child or young adult with additional needs – Neale Hayward-Shott
Read how Fliss has found her routine and settled into daily home learning
The Weekly Visual Timetable
On the 25th March, my daughter, Fliss, came home from her day centre for the last time for a while.
At first, she was quite unsettled as she enjoys her routine and is very fond of her support workers. Fliss is very attached to her weekly visual timetable and refers to it frequently to ground her. She likes to know what she's doing each day of the week. Being in lockdown, at home all the time, had taken away the structure that she found reassuring.
Fliss has learning disabilities and can't process information easily unless it's clear and, in her case that means, visual.
So, we needed to create a new structure to replace the one that she'd lost. We created a list of topics (see the list at the bottom of the article for reference), selected a photo for each topic and printed all the pictures. Fliss then selected the topics that she wanted to start with and put them into the pockets that she uses with her weekly visual timetable.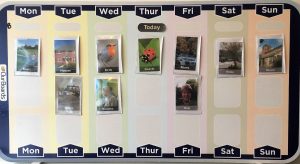 To add to the topics, and create more variety, she then chose pictures of people that she could email or phone on certain days. We don't do the topics at the weekend as we try to keep the weekday / weekend difference.
Other people that I have suggested this idea to have chosen different countries or animals for the topics. Use whatever your child is interested in. Deciding what to do each day without a plan is like having a blank piece of paper staring at you when someone tells you to write an article. Once you have the topic things are much easier. Once you have a topic you can search for craft ideas, pictures, puzzles, videos and all sort of activities.  If you would like a copy of my pictures, then email me at the address below.
The Daily Personal Planning Board
Having a weekly visual timetable is a good start and really helps with the big picture. But keeping someone with a learning disability engaged all day can be difficult. Now I have to say, at this point, that the daily home learning is down to my wonderful wife, Heather. Each morning Heather helps Fliss to set up her Personal Planning Board with the various activities for the day.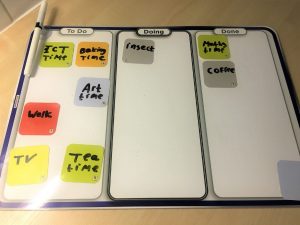 Fliss writes each of the different activities for the day on one of the Gecko dry-wipe notes that come with her board. Some activities are the same each day, some are new and every day includes the focus topic. At the start of the day, and at the start of each new activity, Fliss will chose one of the activities and move the note from the To Do column to the Doing column. At some points in the day she can choose whatever she would like to do next and at other times her choice is guided. After the activity is finished Fliss moves the note over to the Done column.
Working through the Personal Planning Board in this way gives Fliss a visual idea of what she has achieved so far and what is left to do. It also helps her to recount the day and tell other family and friends about what she's done. Without the board that's something she really struggles to do.
It's very hard work supporting someone with an additional need all day every day. For Heather and Fliss' the OurBoards Weekly Visual Timetable and OurBoards Personal Planning Board bring structure, engagement, understanding and a lack of anxiety to home learning.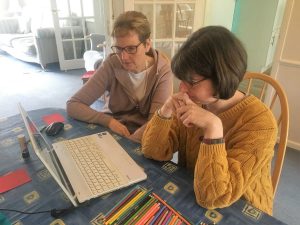 Neale is the founder of OurBoards Community Interest Company
Contact details:
Neale Hayward-Shott
neale@OurBoards.co.uk
http://OurBoards.co.uk
Topics that Fliss is working through
Flowers, Trees, Houses, Dogs, Horses, Fields, Cars, People, Food, Churches, Fences, Post boxes, Drinks, Farms, Walls, Birds, Insects, Boats, Trains, Planes, Rivers,  Ponds, Beaches, Woods & Forests, Space, Water, Desert, Arctic, Butterflies