Thank you Sarah…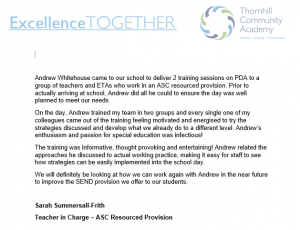 Andrew Whitehouse came to our school to deliver 2 training sessions on PDA to a group of teachers and ETAs who work in an ASC resourced provision. Prior to actually arriving at school, Andrew did all he could to ensure the day was well planned to meet our needs.
On the day, Andrew trained my team in two groups and every single one of my colleagues came out of the training feeling motivated and energised to try the strategies discussed and develop what we already do to a different level. Andrew's enthusiasm and passion for special education was infectious!
The training was informative, thought provoking and entertaining! Andrew related the approaches he discussed to actual working practice, making it easy for staff to see how strategies can be easily implemented into the school day.
We will definitely be looking at how we can work again with Andrew in the near future to improve the SEND provision we offer to our students.
Sarah Summersall-Frith
Teacher in Charge – ASC Resourced Provision